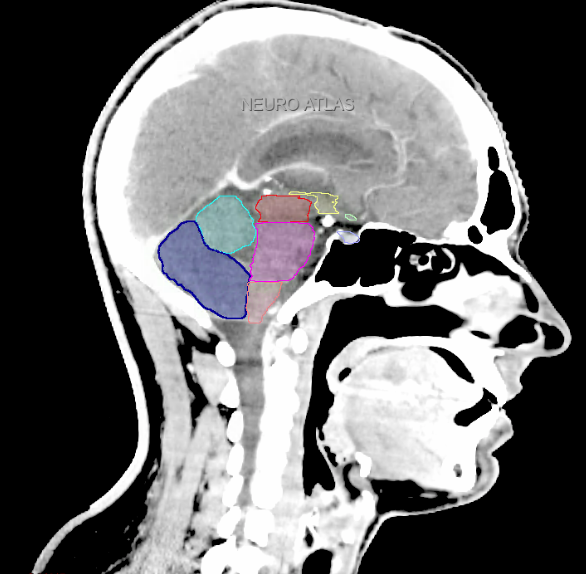 Eekers et al. have published an international neurological atlas for contouring of organs at risk in consensus with the European Particle Therapy Network (EPTN). The purpose of this consensus atlas is to decrease inter- and intra-observer variability in delineating OARs relevant for neuro-oncology. We propose this atlas is used in photon and particle therapy in order to derive consistent dosimetric data. When required this atlas will be updated according to new insights.
Included are all OARs known to be relevant for radiation-induced toxicity in neuro-oncology: brain, brainstem, cochlea, vestibulum & semicircular canals, cornea, lens, retina, lacrimal gland, optic nerve, chiasm, pituitary, hippocampus and skin. A new OAR relevant for neuro-cognition, the posterior cerebellum is also included.
Three-dimensional delineation of the fifteen consensus OARs for neuro-oncology are shown on CT and 3 Tesla (3T) MR images (slice thickness 1 mm with intravenous contrast agent). All are presented in transversal, sagittal and coronal view.

Please cite this Atlas as follows:

Eekers D, In 't Ven L, Roelofs E, Postma A, Troost EG. 
EPTN International Neurological Contouring Atlas 
CancerData, 2017. doi:10.17195/candat.2017.08.1