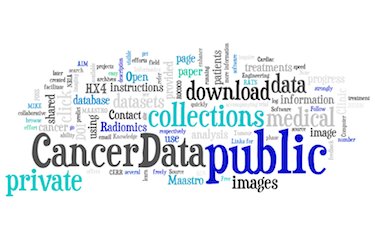 The CancerData site is an effort of the Medical Informatics and Knowledge Engineering team (MIKE for short) of Maastro Clinic, Maastricht, The Netherlands. It offers a central, online repository for the sustained storage of clinical protocols, publications and research datasets. The data that are offered can vary from documents, spreadsheets to (bio-)medical images and treatment simulations.
Persistent identifiers
CancerData is a registered member of DataCite (datacite.org), which is an international consortium and member of the International DOI Foundation. Via DataCite, we have the ability to offer persistent identifiers to the datasets via the registration of Digital Object Identifiers (DOI), such as doi:10.17195/candat.2015.10.5.
Open source driven
CancerData is built using Free and Open Source Software (FOSS) only. Refer to this page for more information on the used software.
Contact us
Please use the Contact form for feedback or more information.